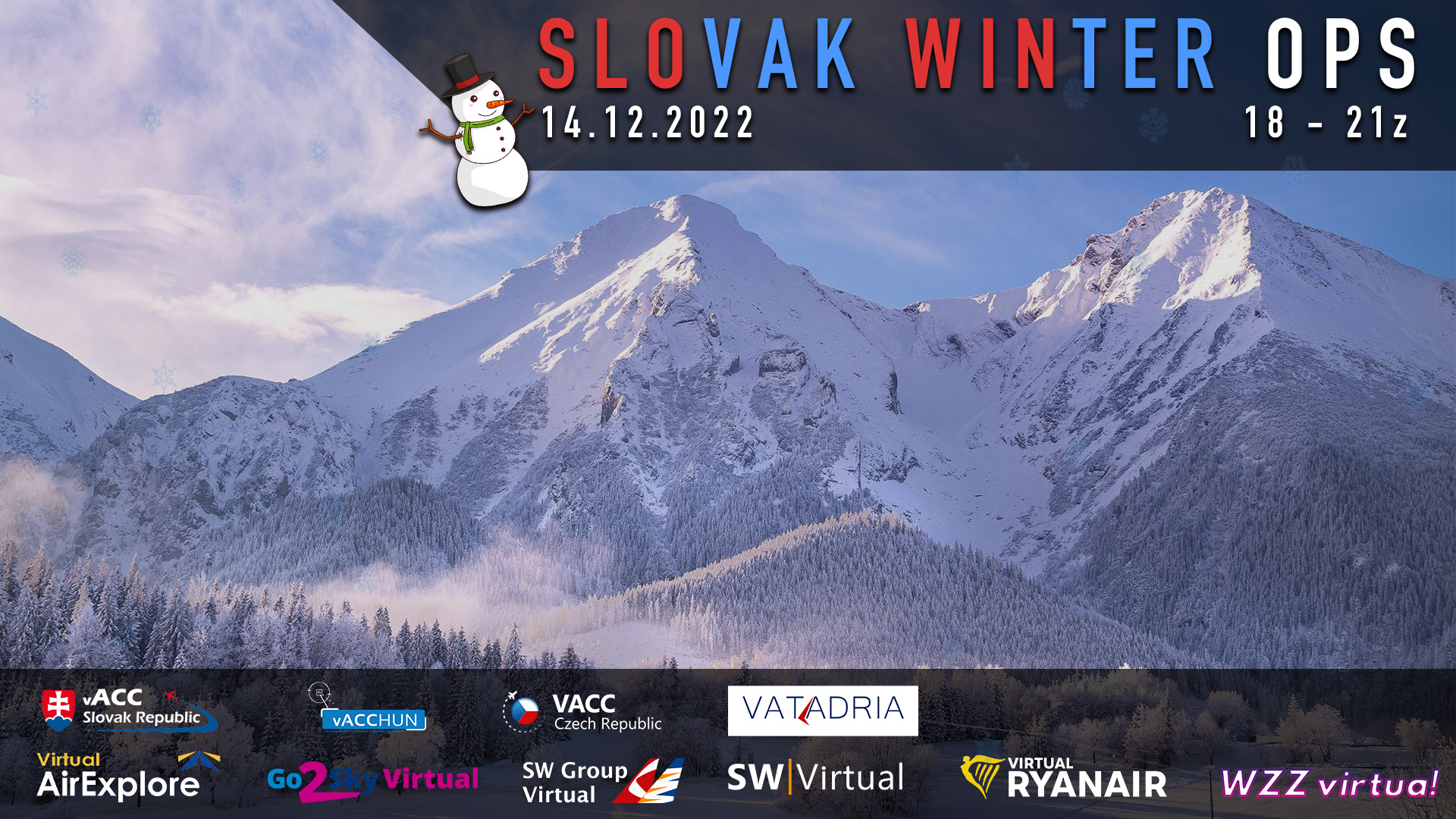 Dear pilots, we invite you all to an event Slovak Winter Ops organized by vACC Slovakia, vACC Hungary, vACC Czech Republic and VATAdria. The partners of this event are AirExplore Virtual, Go2Sky Virtual, SW Group Virtual, SW Virtual, Ryanair Virtual and WizzAir Virtual
Wednesday, December 14, 2022 - 18:00 to 21:00z
Dear pilots, we invite you all to an event Slovak Winter Ops organized by vACC Slovakia, vACC Hungary, vACC Czech Republic and VATAdria. The partners of this event are AirExplore Virtual, Go2Sky Virtual, SW Group Virtual, SW Virtual, Ryanair Virtual and WizzAir Virtual so come join the fun!
About this event: -Starting event from 18z to 21z at date of 14th of December -Full ATC coverage at 6 airports including Bratislava, Poprad-Tatry, Košice, Budapest, Prague and Dubrovnik -Event Partners: -AirExplore Virtual: https://airexplorevirtual.com/ -Go2Sky Virtual: https://go2skyvirtual.weebly.com/ -SW Group Virtual: https://www.tvs-virtual.cz/ -SW Virtual: https://sw-virtual.eu/ -Ryanair Virtual: https://vryr.eu/ -WizzAir Virtual: https://vamsys.io/login/wzzvirtual
For sceneries and charts, visit: -vACC Slovakia: http://vacc-slovakia.sk/ -vACC Czech Republic: https://www.vacc-cz.org/en/airports/lkaa -vACC Hungary: https://vacchun.hu/en/pilotaknak/ -VATAdria: https://vatadria.com/pilots
See you in the skies!